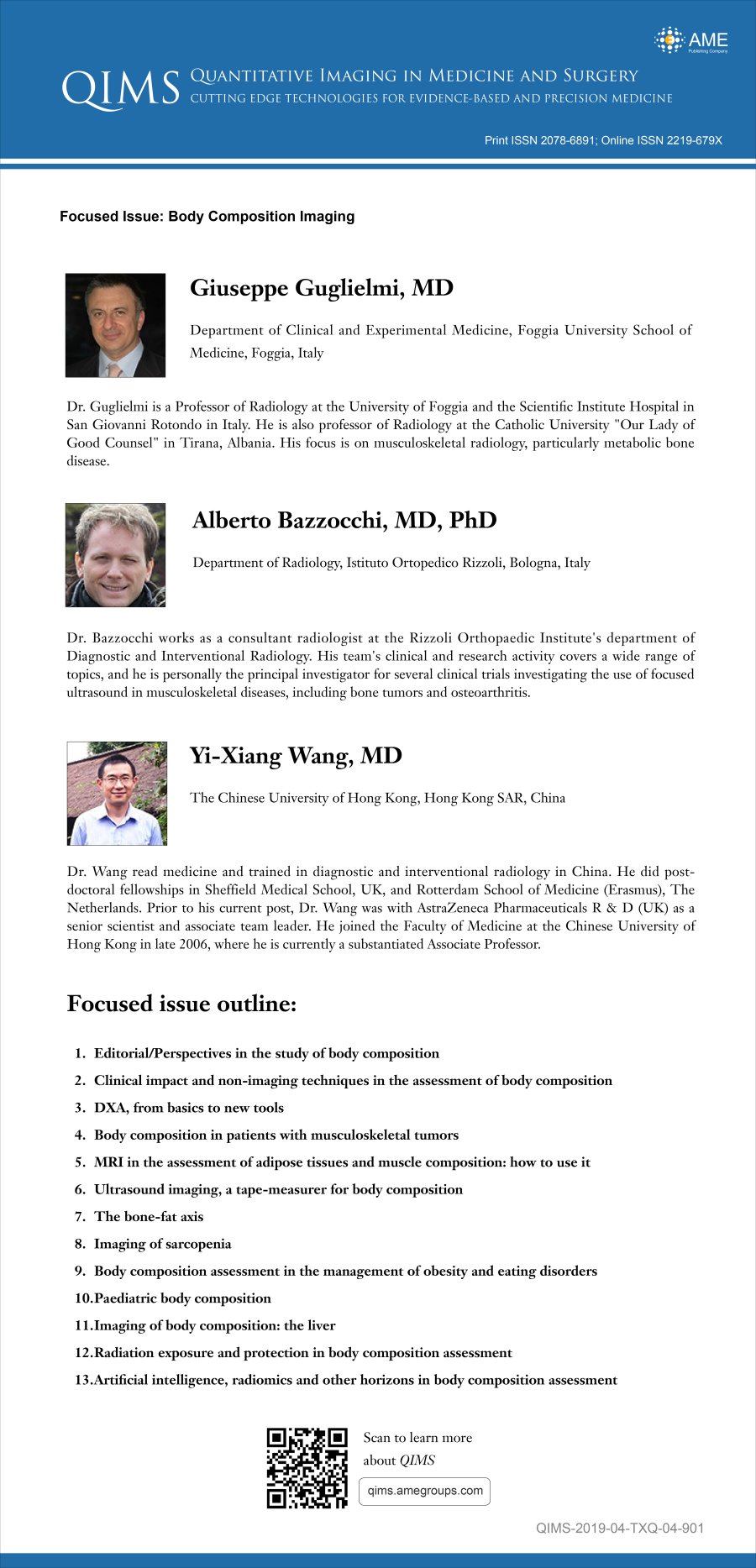 Focused issue on "Body Composition Imaging" is edited by Dr. Giuseppe Guglielmi, from Department of Clinical and Experimental Medicine, Foggia University School of Medicine, Foggia, Italy; Dr. Alberto Bazzocchi, from Department of Radiology, Istituto Ortopedico Rizzoli, Bologna, Italy; and Dr. Yi-Xiang Wang, from The Chinese University of Hong Kong, Hong Kong SAR, China.

Dr. Giuseppe Guglielmi is a Professor of Radiology at the University of Foggia and the Scientific Institute Hospital in San Giovanni Rotondo in Italy. He is also professor of Radiology at the Catholic University "Our Lady of Good Counsel" in Tirana, Albania. His focus is on musculoskeletal radiology, particularly metabolic bone disease.

Dr. Alberto Bazzocchi works as a consultant radiologist at the Rizzoli Orthopaedic Institute's department of Diagnostic and Interventional Radiology. His team's clinical and research activity covers a wide range of topics, and he is personally the principal investigator for several clinical trials investigating the use of focused ultrasound in musculoskeletal diseases, including bone tumors and osteoarthritis.

Dr. Yi-Xiang Wang read medicine and trained in diagnostic and interventional radiology in China. He did post-doctoral fellowships in Sheffield Medical School, UK, and Rotterdam School of Medicine (Erasmus), The Netherlands. Prior to his current post, Dr. Wang was with AstraZeneca Pharmaceuticals R & D (UK) as a senior scientist and associate team leader. He joined the Faculty of Medicine at the Chinese University of Hong Kong in late 2006, where he is currently a substantiated Associate Professor.


Focused issue outline:
Editorial/Perspectives in the study of body composition
Clinical impact and non-imaging techniques in the assessment of body composition
DXA, from basics to new tools
Body composition in patients with musculoskeletal tumors
MRI in the assessment of adipose tissues and muscle composition: how to use it
Ultrasound imaging, a tape-measurer for body composition
The bone-fat axis
Imaging of sarcopenia
Body composition assessment in the management of obesity and eating disorders
Paediatric body composition
Imaging of body composition: the liver
Radiation exposure and protection in body composition assessment
Artificial intelligence, radiomics and other horizons in body composition assessment