Original Article
Imaging characteristics of H3 K27M histone-mutant diffuse midline glioma in teenagers and adults
Introduction
Diffuse midline gliomas are brain tumours with a mean survival of approximately 9 months from diagnosis (1,2). Midline gliomas may arise anywhere near the cerebral or infratentorial brain midline and occasionally develop in the spinal cord (3,4). They demonstrate overlapping anatomical features with the now discontinued World Health Organization (WHO) category of diffuse intrinsic pontine glioma (DIPG) (5).
In 2012, aberrations in a regulatory histone gene (H3) resulting in an amino acid substitution from lysine to methionine (K27M) were discovered in up to 40% of paediatric glioblastomas (6,7). H3 K27M mutations have since been identified as a key genetic trait of midline gliomas, present in up to 80% of childhood DIPG cases and associated with a dismal prognosis (mean survival 0.73 years) compared to midline gliomas lacking a histone mutation (mean survival 4.6 years) (2,8). Although H3 K27M-mutant gliomas tend to manifest at a much younger age (median 10.5, range, 5–23 years) (3) than conventional glioblastoma, they also develop in adults across a wide age spectrum with exceptionally poor survival (9-11).
Histones are nuclear protein complexes, which condense and structure chromosomal DNA into functional units with the potential to modify gene activity (12). Histone octamers, consisting of paired H2A, H2B, H3, and H4 subunits, contain terminal protein terminals as the access point for post-translational modification (6). It has been hypothesised that the genetic code and spatial orientation of these histone terminals direct epigenetic processes, including DNA repair and cell proliferation. Because sixteen nearly identical genes encode histone H3, it is incompletely understood how mutations in a single H3 gene produce tumour growth (13). The transcriptomic profile of H3 K27M resembles mid to late fetal stages of thalamic and corpus striatum development, which could explain the associated tumour locations (3). Consistent with the genetic signature of childhood glioblastoma, adult histone-mutant gliomas are isocitrate dehydrogenase (IDH) wild-type, but may exhibit loss of alpha-thalassaemia-retardation-X (ATRX) gene expression and chromosome 10q loss (14). H3 K27M-mutant gliomas in most cases display histological features of glioblastoma, or progress rapidly if discovered in the low grade stage. A distinct entity 'diffuse midline glioma, H3 K27M-mutant, WHO grade IV' has been newly adopted into the latest 2016 WHO Classification of Central Nervous System (CNS) Tumours, thereby replacing the previous (DIPG) nomenclature (15). Imaging is essential in the investigation of H3 K27M-mutant gliomas to estimate the tumour extent, and because the diagnosis may be considered based on lesion site. The deep location within eloquent structures poses a risk to biopsy, in a situation where a rapid diagnosis is required. Midline gliomas may present with obstructive hydrocephalus and critical mass effect (16), particularly if enclosed in the infratentorial compartment. To date, no distinctive structural imaging feature has been identified for histone-mutant gliomas (17). Several MR imaging descriptions exist for DIPG prior to the integrated 2016 WHO diagnosis; it is likely that a substantial proportion of this literature applies to H3 K27M-mutant glioma, but few imaging reviews address the new entity specifically (18). Reduced diffusivity is a well-known feature of cellular gliomas (19) and has been observed as a poor prognostic predictor in DIPG (20). We aimed to analyse morphological and diffusion-weighted imaging data in genotypically confirmed H3 K27M-mutant gliomas, derived from preoperative clinical studies.
---
Methods
Patient cohort
Institutional ethics approval was obtained, with informed consent waived due to the nature of the disease and retrospective analysis.
Since the classification of H3 K27M histone-mutant glioma (15), 15 individuals aged 14–64 years (median 19 years, 9 female) with a proven diagnosis were treated at our specialist brain tumour unit (between 2016 and 2019). In all cases, MR imaging acquired prior to tissue diagnosis and treatment was analysed.
Histopathology and molecular analysis
All tissues were fixed in formalin for at least 4 hours, followed by processing through graded alcohols and xylene, to paraffin according to standard practice in histology laboratories; 4 µm thick sections of the formalin fixed paraffin embedded samples were mounted on glass slides. All samples were examined initially on haematoxylin and eosin stained sections, followed by immunostaining according to routine diagnostic protocols, including antibodies against IDH1 (R132H), H3 K27M, and ATRX, and Ki67 on a Roche Ventana benchmark platform (21-23). Molecular analysis was carried out to confirm the histone mutation according to published protocols (24). All tissue samples fulfilled the histological and molecular criteria for diffuse midline glioma, H3 K27M-mutant (WHO IV). A histopathology imaging example is shown in Figure 1.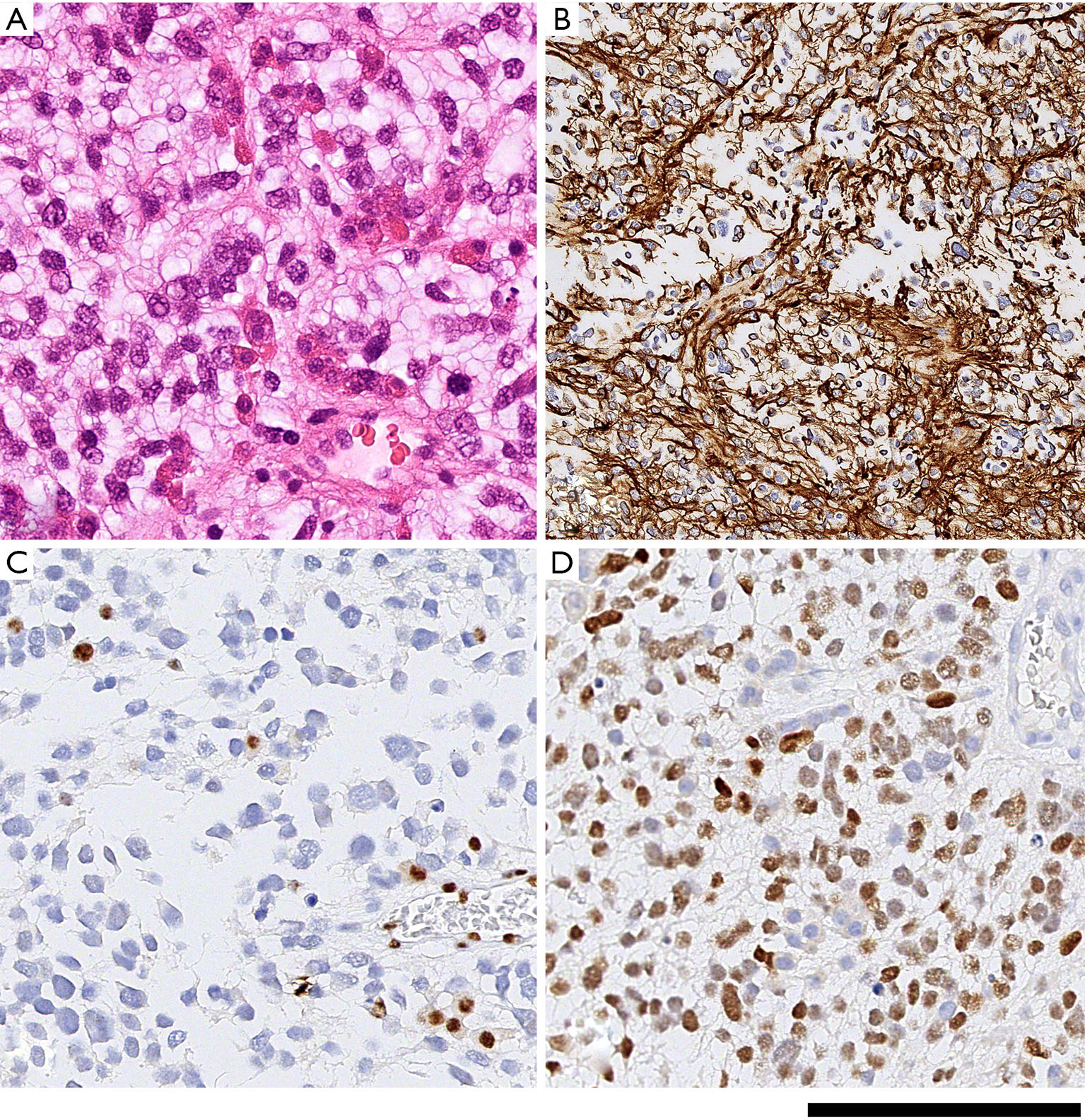 Figure 1 Histological and immunohistochemical features of histone H3 K27M mutant midline glioma (case 15). (A) Tinctorial stain with haematoxylin and eosin shows a moderately cellular glial tumour with relatively monomorphic nuclei. (B) immunohistochemical staining for glial fibrillary acidic protein (GFAP) shows labelling of most tumour cells which are arranged along glial fascicles. (C) Loss of expression of the ATRX protein: brown stained nuclei indicate residual (local) cells with retained ATRX expression whilst tumour cells (blue counterstain) have lost ATRX expression. (D) Immunostaining for mutant histone H3 K27M. The antibody detects the mutant protein only, thus labels all nuclei of tumour cells but not of vascular cells or local glial cells. Scale bar corresponds to 180 µm in (A,C,D) and 360 µm in (B).
MR imaging data
Because our institution represents a quaternary referral centre, the MR imaging studies were performed on several 1.5T (n=10) and 3T (n=5) systems, consisting of T2-weighted (T2w), fluid-attenuation inversion recovery (FLAIR), pre- and post-gadolinium T1-weighted (T1w), +/− T2*/susceptibility-weighted (SWI) sequences, and 3-directional diffusion-weighted MRI (DWI) with two b values of 0–1,000 mm2/s, and in some cases an additional b500 mm2/s value under the presumption that adding an intermediate image at exactly half the highest b-value will not change the calculated apparent diffusion coefficient (ADC) (25). The conventional imaging parameters were as follows: T2w (TR/TE, 3,000–6,270/80–380 ms; FOV, 179–231 mm × 220–287 mm; slice thickness, 1–6 mm; matrix, 256–512 × 226–532), FLAIR (TR/TE, 6,000–11,000/81–363 ms; TI, 2,370–2,800 ms; FOV, 193–240 mm × 239–298 mm; slice thickness, 1–6 mm; matrix, 256–328 × 151–241), pre and post contrast-enhanced T1w (TR/TE, 5.25–2,020/1.65–15 ms; FOV, 193–280 × 240–348 mm; slice thickness, 0.9–6 mm; matrix, 256 × 192–256), T2* (TR/TE, 788–857/16–26 ms; FOV, 195–230 mm × 42–286 mm; slice thickness, 5 mm; matrix, 256–320 × 168–256), SWI (TR/TE, 25–49/19–49 ms; FOV, 185–230 mm × 230–286 mm; slice thickness, 1.5–2 mm; matrix, 256–320 × 163–256), and DWI (TR/TE, 3,078–11,500/55–102 ms; FOV, 210–240 mm × 261–298 mm; slice thickness, 2.5–6 mm; matrix, 84–192 × 84–192).
ADC quantification
ADC maps were calculated using clinically integrated post-processing software (Olea Sphere v2.3, Olea Medical). Two board certified neuroradiologists with subspecialisation in neuro-oncology (ST 5-year experience and CM 10-year experience) in consensus placed ADC regions of interest (ROIs) according to published methods (26-28); three small (30–40 mm2) ROIs were sited in the visually perceived lowest ADC portions of each H3 K27M-mutant glioma on one or more image slices. The mean value of the lowest ADC measurement was designated the minimum ADC value (ADCmin) (28). One ROI (ADCmean) was then placed to cover most of the largest axial tumour cross-section as reported in (27), taking care to exclude necrosis, macroscopic haemorrhage and lesion margins. For comparison, an additional ROI was placed into normal appearing centrum semiovale white matter (ADCNAWM). Absolute ADC values, as well as ADCmin/NAWM and ADCmean/NAWM ratios were calculated blinded to published thresholds (29) and at an interval to ROI siting to minimise bias. Subsequently, volumetric segmentations (excluding macroscopic necrosis) were completed for each whole tumour in order to produce ADC histogram data. For this, volumes of interest (VOIs) were drawn onto the b0 images in Olea Sphere v2.3 with an automated VOI copy generated on the ADC map. From the ADC volume, a cumulative ADC histogram was generated for each glioma. Statistical testing (Wilcoxon signed rank test for related samples) was performed in SPSS 25 (IBM, New York) to assess for differences between the ROI and VOI histogram derived ADC values.
Visual rating
Tumour location was specified according to the predominant site(s) of expanded tissue abnormality. A T2w-based manual segmentation of each whole lesion was performed to measure tumour volumes. T2w/FLAIR signal characteristics were described, whereby the ability to draw around the lesion on T2w/FLAIR was designated as distinct margin and uncertainty regarding lesion borders as indistinct. Haemorrhage was assessed by inspecting non-contrast T1w and T2w. CT, T2* and/or SWI were taken into consideration, where available. Enhancement patterns were classified as non-enhancing, solid or rim-enhancing. Rim-enhancement surrounding central necrosis was distinguished from cysts, defined as central fluid signal isointense to CSF with absent or minimal contrast uptake. If hydrocephalus was present, it was documented if this was severe enough to require shunting.
---
Results
Clinical findings
Symptoms of raised intracranial pressure, motor deficits, and seizures, alone or in combination, were the most frequent clinical manifestations identified in the patient group. Other signs included acute onset squint, double vision, swallowing difficulties slurred speech and abnormal gait. Behavioural and mental changes were common in individuals with thalamic tumours. Several patients showed signs of cognitive dysfunction (i.e., language, attention, executive functioning), with deterioration of handwriting and/or speech. Overall, the presenting clinical features appeared predominantly dependent on tumour location, without any H3 K27M-specific symptomatology.
ADC quantification
The median interval between the imaging and tissue diagnosis was 9 days (range, 0–74 days). Table 1 shows the ADC values obtained in 15 gliomas. The solid tumour ROI ADCmin results measured a mean of 0.84 (±0.15 standard deviation, SD) ×10-3 mm2/s. The solid tumour ROI ADCmean values within the largest cross-section had a mean of 1.12 (±0.25)×10-3 mm2/s. A mean of 0.76 (±0.06)×10-3 mm2/s was observed for the ADCNAWM values. The ROI ADCmin/NAWM ratio values measured a mean of 1.097 (±0.149), and for the ROI ADCmean/NAWM ratio the mean was 1.466 (±0.299). Table 2 shows the results of the volumetric ADC histogram measurements. Figure 2 shows an example of different ADC histogram curves observed in the H3 K27M mutant glioma cohort. A biphasic ADC distribution was evident in 2 histograms, with one glioma (case 2) showing a high volumetric ADCmean (3.54 mm2/s), likely due to inadvertent inclusion of necrotic tissue. In one glioma (case 8), no histogram could be produced due to missing data. A significant difference (P=0.01) was only observed between the 2nd centile of the volumetric ADC histogram and the ROI ADCmin values. The comparisons between ROI ADCmin and the 5th and 10th histogram percentiles showed no statistical difference (P=0.379 and P=0.177, respectively). No difference was observed between ROI ADCmin/NAWM ratio and the ADC5th percentile/NAWM ratio measurements (P=0.421). The comparisons between ROI ADCmean and the histogram ADCmedian and ADCmean were non-significant (P=0.576 and P=0.208). And no statistical difference was apparent between ROI ADCmean/NAWM ratio and the histogram ADCmean/NAWM ratio (P=0.60).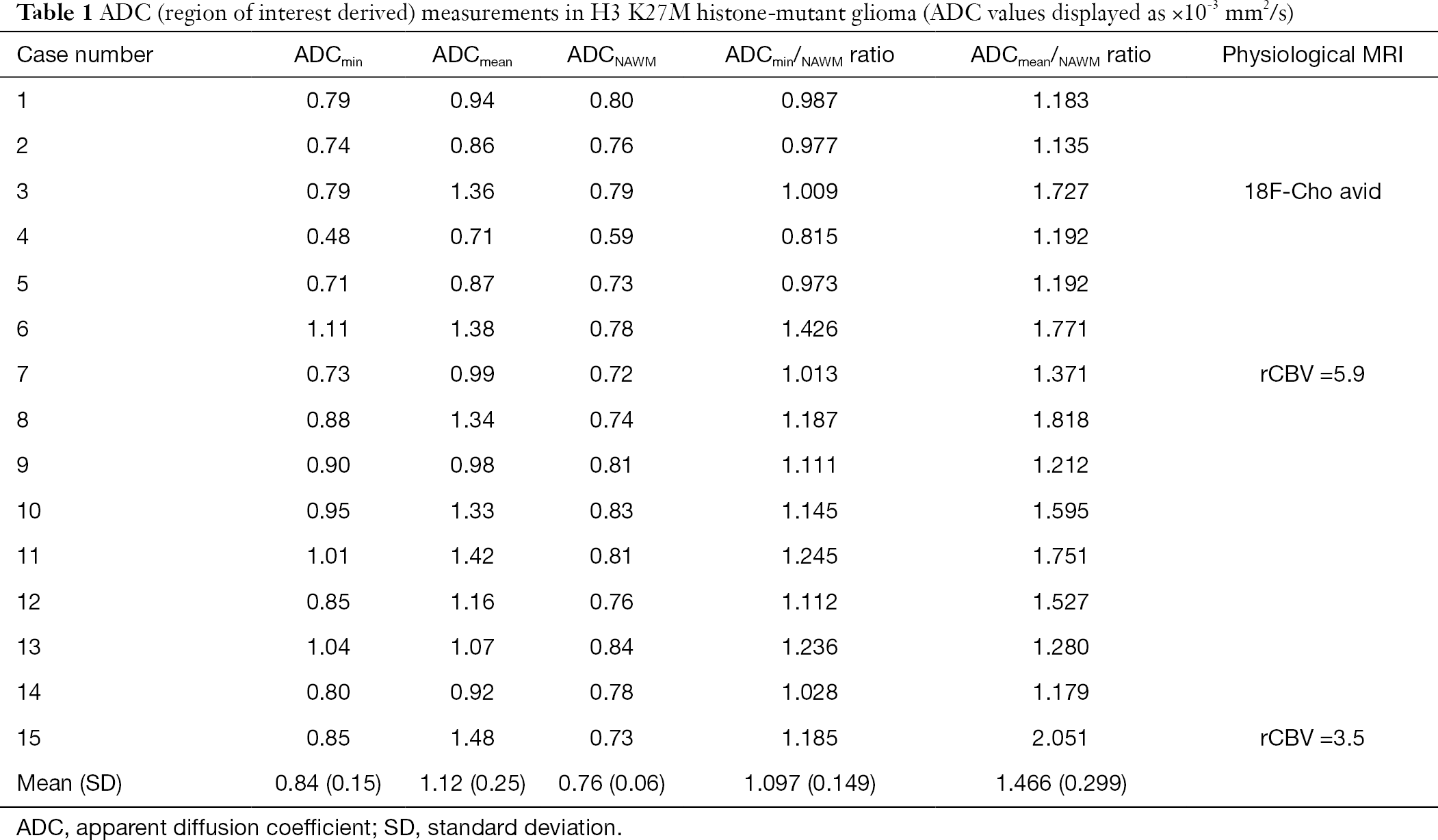 Table 1
ADC (region of interest derived) measurements in H3 K27M histone-mutant glioma (ADC values displayed as ×10
-3
mm
2
/s)
Full table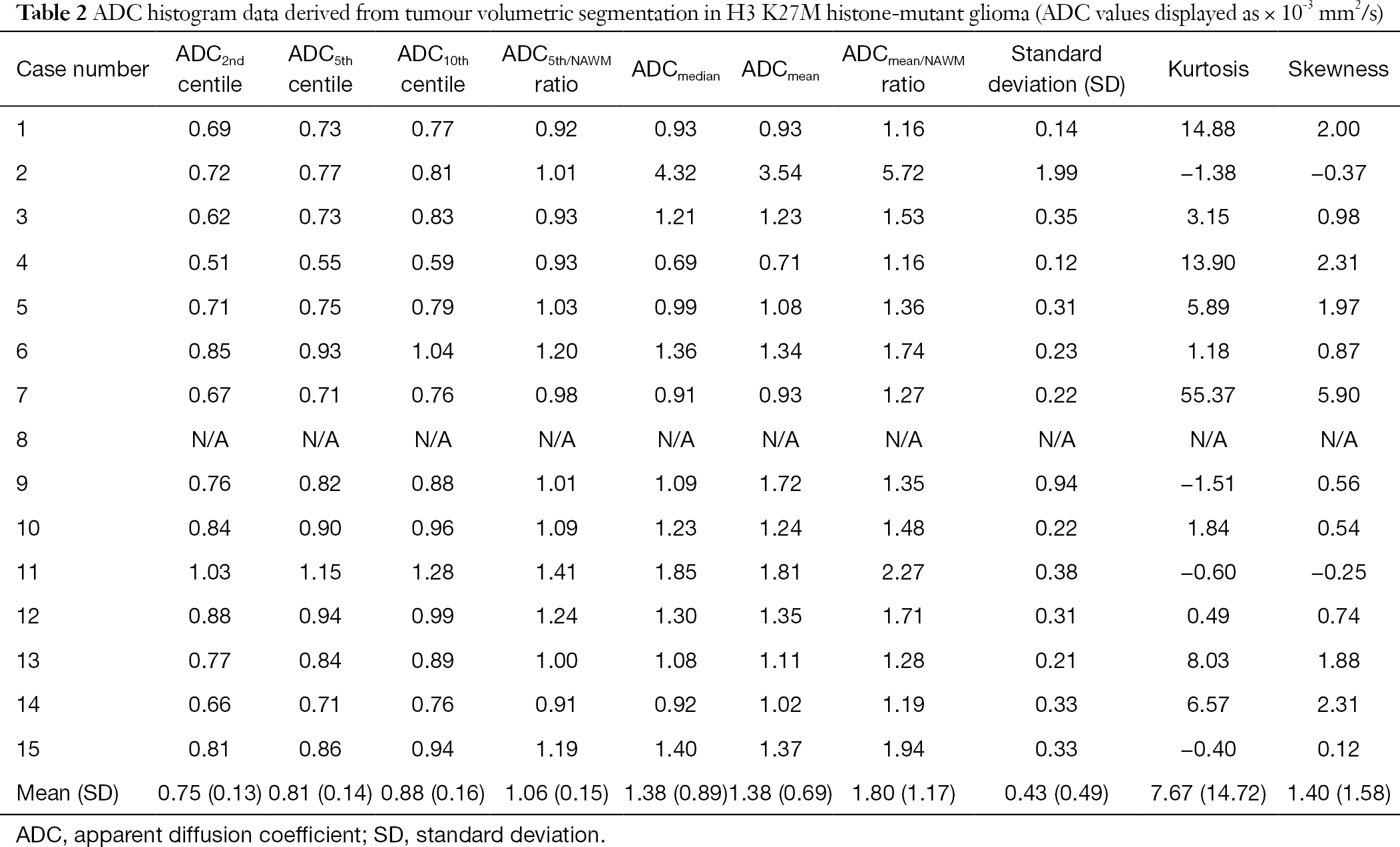 Table 2
ADC histogram data derived from tumour volumetric segmentation in H3 K27M histone-mutant glioma (ADC values displayed as × 10
-3
mm
2
/s)
Full table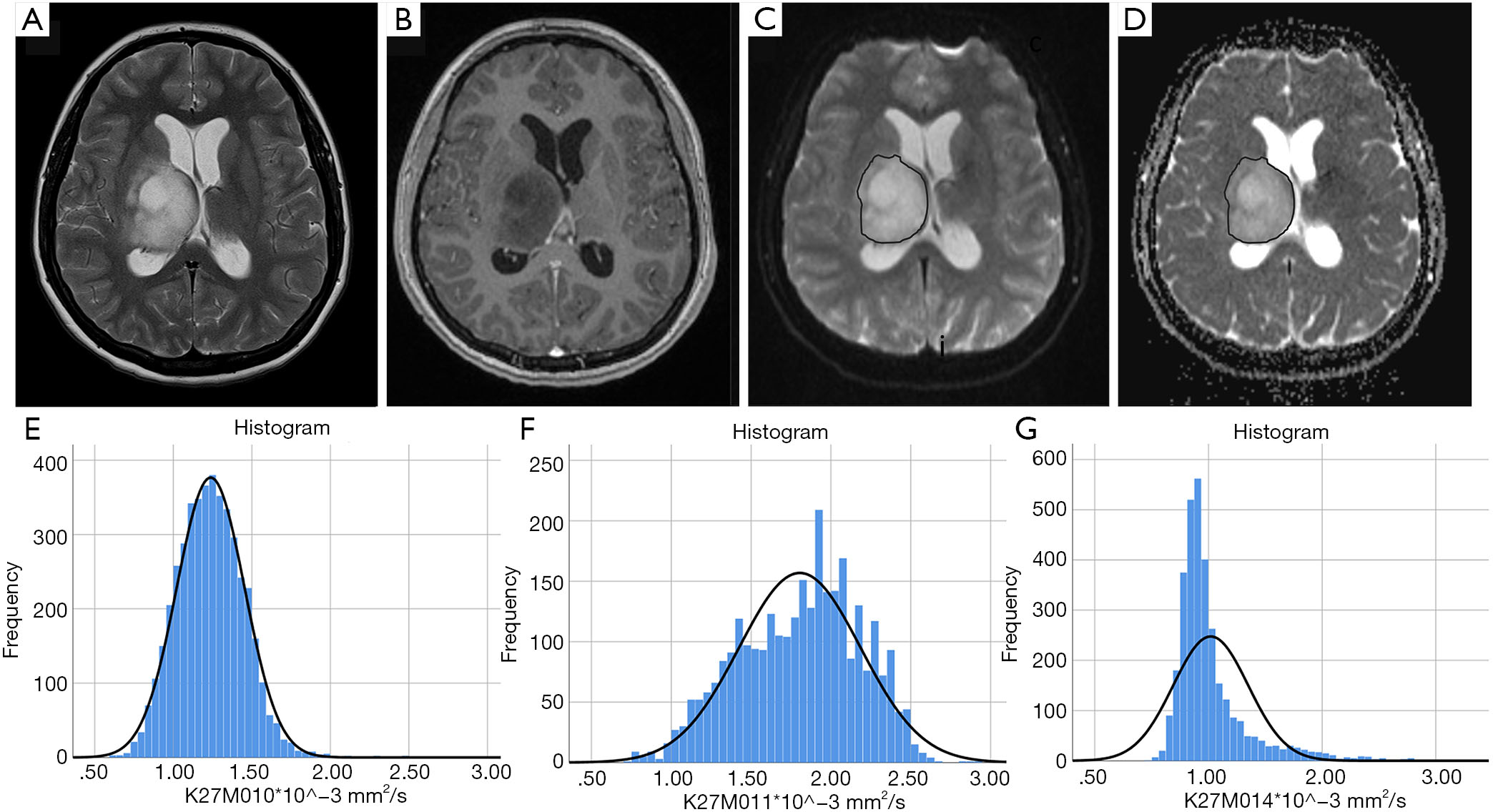 Figure 2 ADC histograms in H3 K27M histone-mutant glioma. T2w image (A), post gadolinium T1w image (B), b0 DWI image (C) and ADC map (D) demonstrating an example of glioma volumetric segmentation (case 10). Segmentations were performed on the b0 images under view of the corresponding anatomical sequences, then copied onto the ADC maps in Olea Sphere v2.3 (Olea Medical). Images (E,F,G) show ADC histograms in 3 different patients (case 10, case 11 and case 14). ADC, apparent diffusion coefficient.
Structural MRI features
An overview of conventional imaging features is shown in Table 3. All H3 K27M-mutant gliomas were in contact with the brain midline (Figure 3). The lesion volumes ranged from 9.2 to 103.1 cm3. The definition of the non-contrast enhancing tumour margin appeared variable, whereby most lesions demonstrated heterogeneous T2/FLAIR signal. The observed T2/FLAIR heterogeneity corresponded to visible differences in ADC signal, with facilitated diffusion shown in necrotic glioma components. None of the H3 K27M histone-mutant gliomas exhibited a T2-FLAIR mismatch sign. Several tumours contained haemorrhagic components (Figure 4), whereas calcification was not identified, and only two tumours contained cysts. Rim-enhancement surrounding necrosis was present in 10/15 (67%) gliomas; 6/15 (40%) patients required shunting for hydrocephalus. Two gliomas were imaged with dynamic susceptibility contrast enhanced (DSC) perfusion MRI (Figure 5), which revealed elevated relative cerebral blood volume (rCBV) indicative of neovascularity. In one case, 18F-choline PET imaging was performed, showing radioactive tracer accumulation within enhancing tumour components (Figure 6).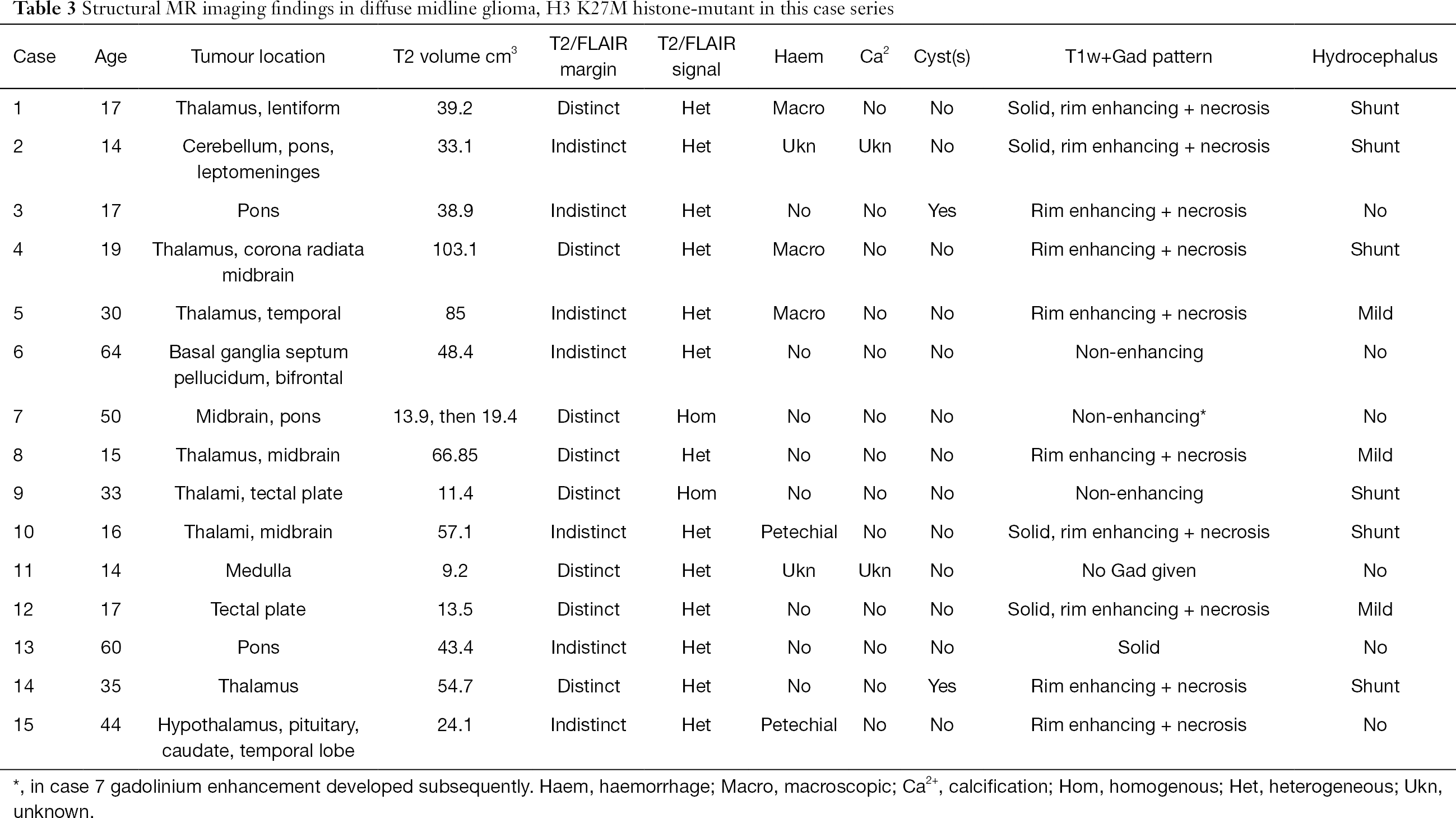 Table 3
Structural MR imaging findings in diffuse midline glioma, H3 K27M histone-mutant in this case series
Full table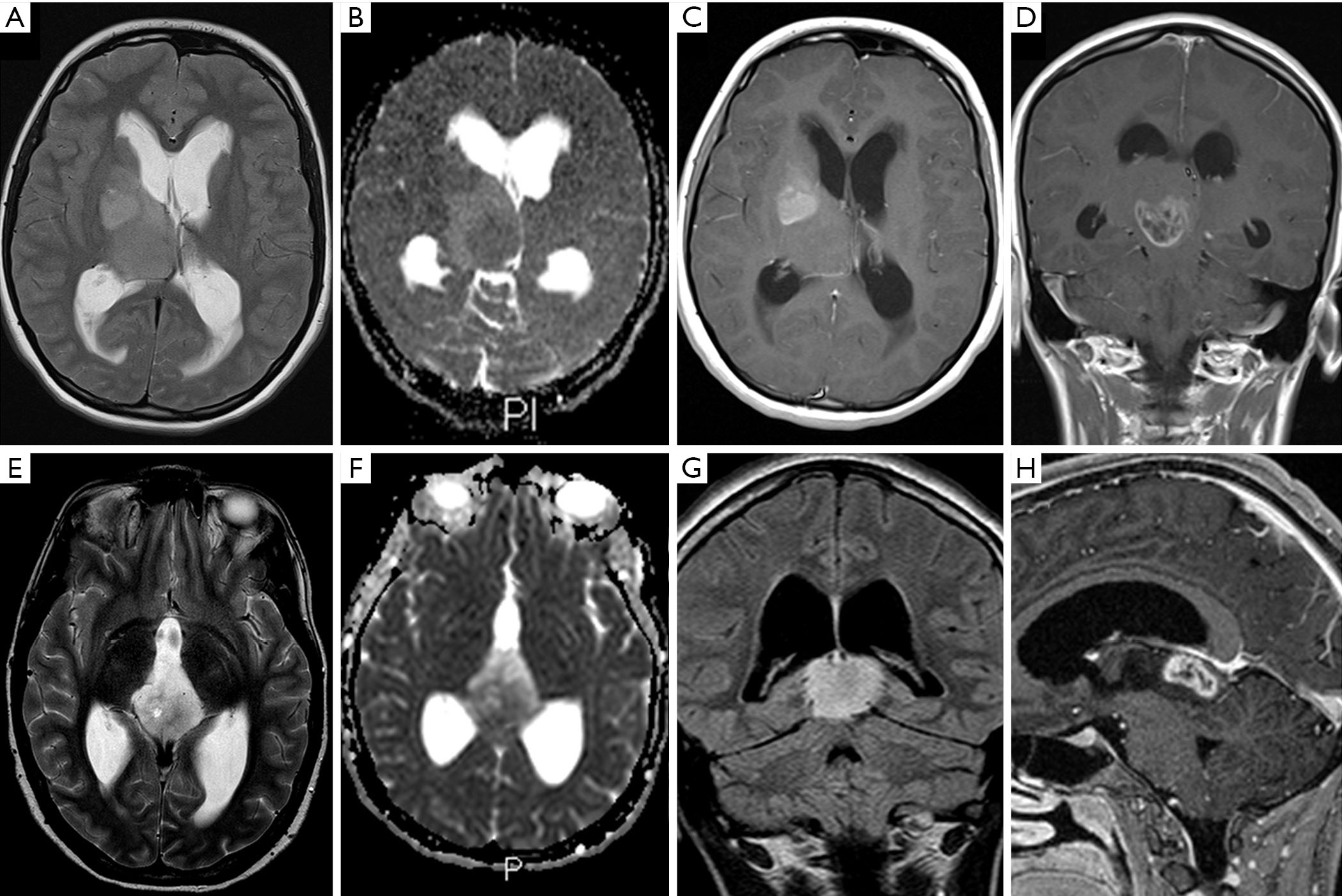 Figure 3 Locations of H3 K27M-mutant diffuse midline glioma. Case 1: T2w (A), ADC map (B), and post gadolinium T1w (C,D) images in a patient with a thalamic glioma. Case 12: T2w (E), ADC map (F), and post gadolinium T1w (G,H) demonstrating a tectal plate tumour epicentre. ADC, apparent diffusion coefficient.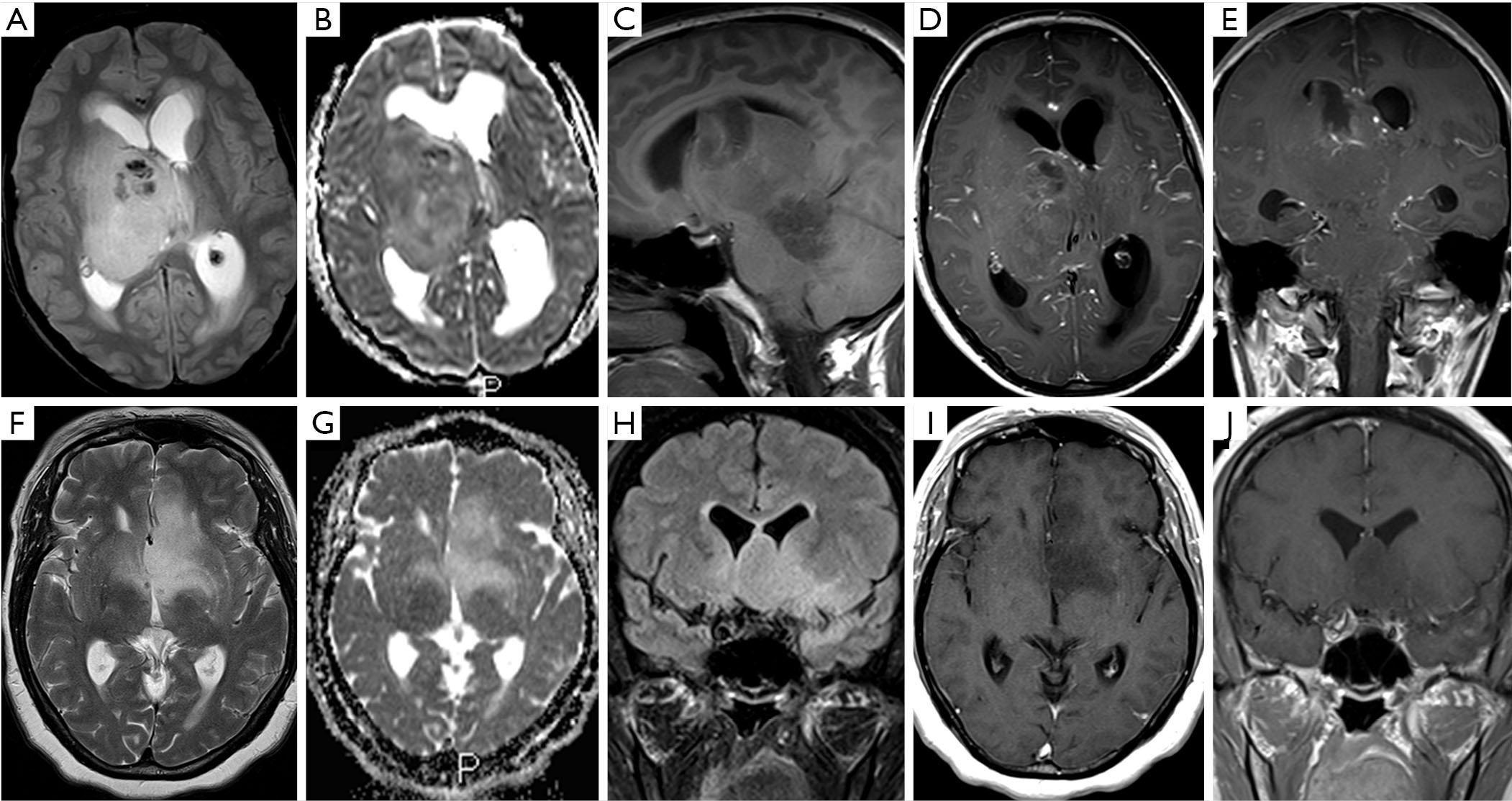 Figure 4 Variable morphology of H3 K27M-mutant diffuse midline glioma. Case 4: T2w (A), ADC map (B), T1w (C) and post Gadolinium T1w (D,E) images demonstrating a large, partially haemorrhagic tumour. Case 6: T2w (F), ADC map (G), FLAIR (H) and post gadolinium T1w (I,J) in a patient with a non-enhancing glioma. ADC, apparent diffusion coefficient.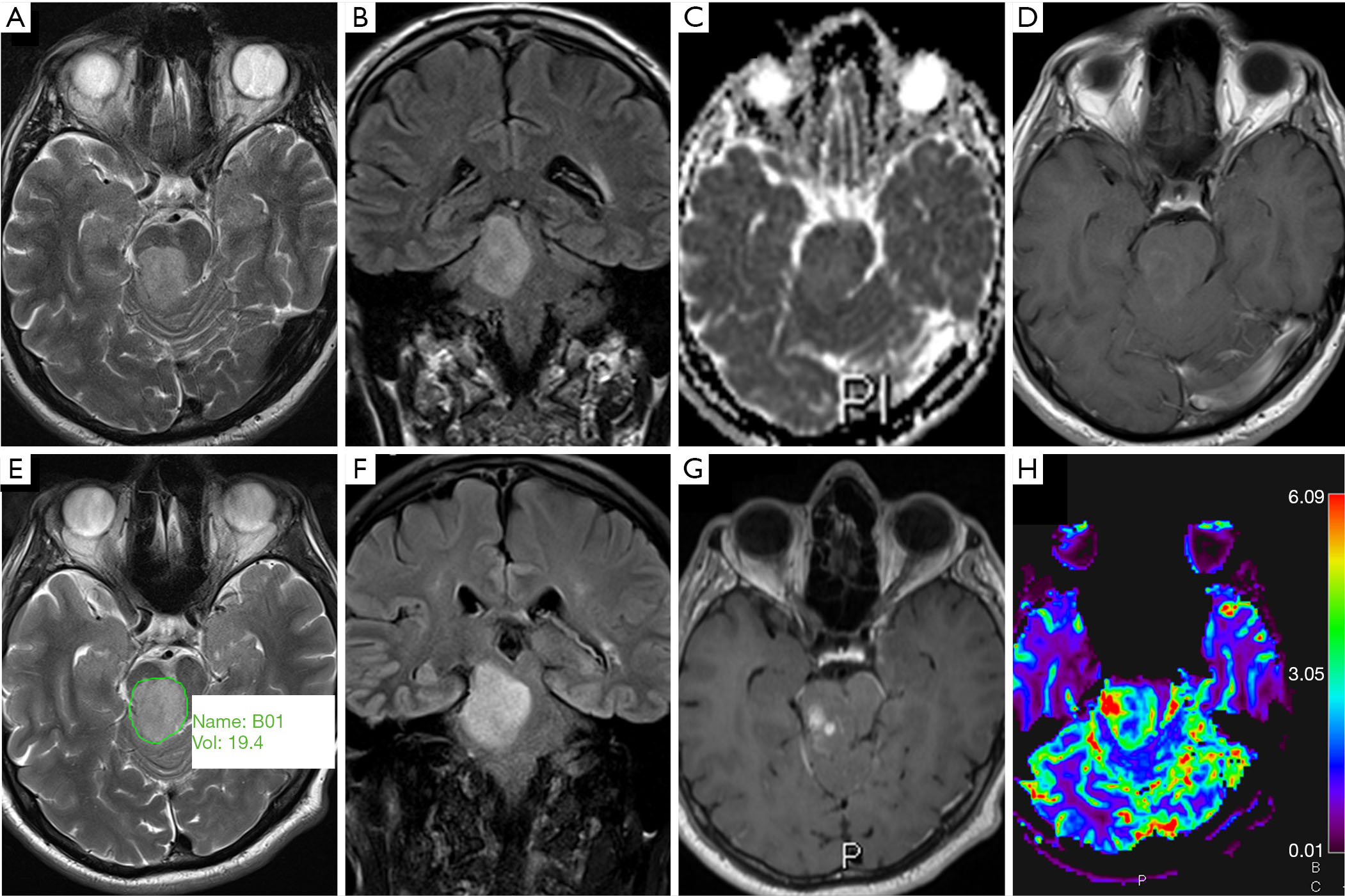 Figure 5 Serial progression and perfusion features of H3 K27M-mutant diffuse midline glioma. Case 7: T2w (A), FLAIR (B), ADC map (C) and post gadolinium T1w images (D) performed on admission showing a non-gadolinium enhancing tumour with ADC signal approximately isointense to surrounding brain. The same patient after 7 months: T2w (E, featuring volumetric segmentation example), FLAIR (F), post gadolinium T1w (G) and DSC perfusion-derived rCBV map (H) revealing interval progression with development of contrast enhancement and pathologically raised blood volume (arrow). ADC, apparent diffusion coefficient; DSC, dynamic susceptibility contrast enhanced perfusion MRI; rCBV, relative cerebral blood volume.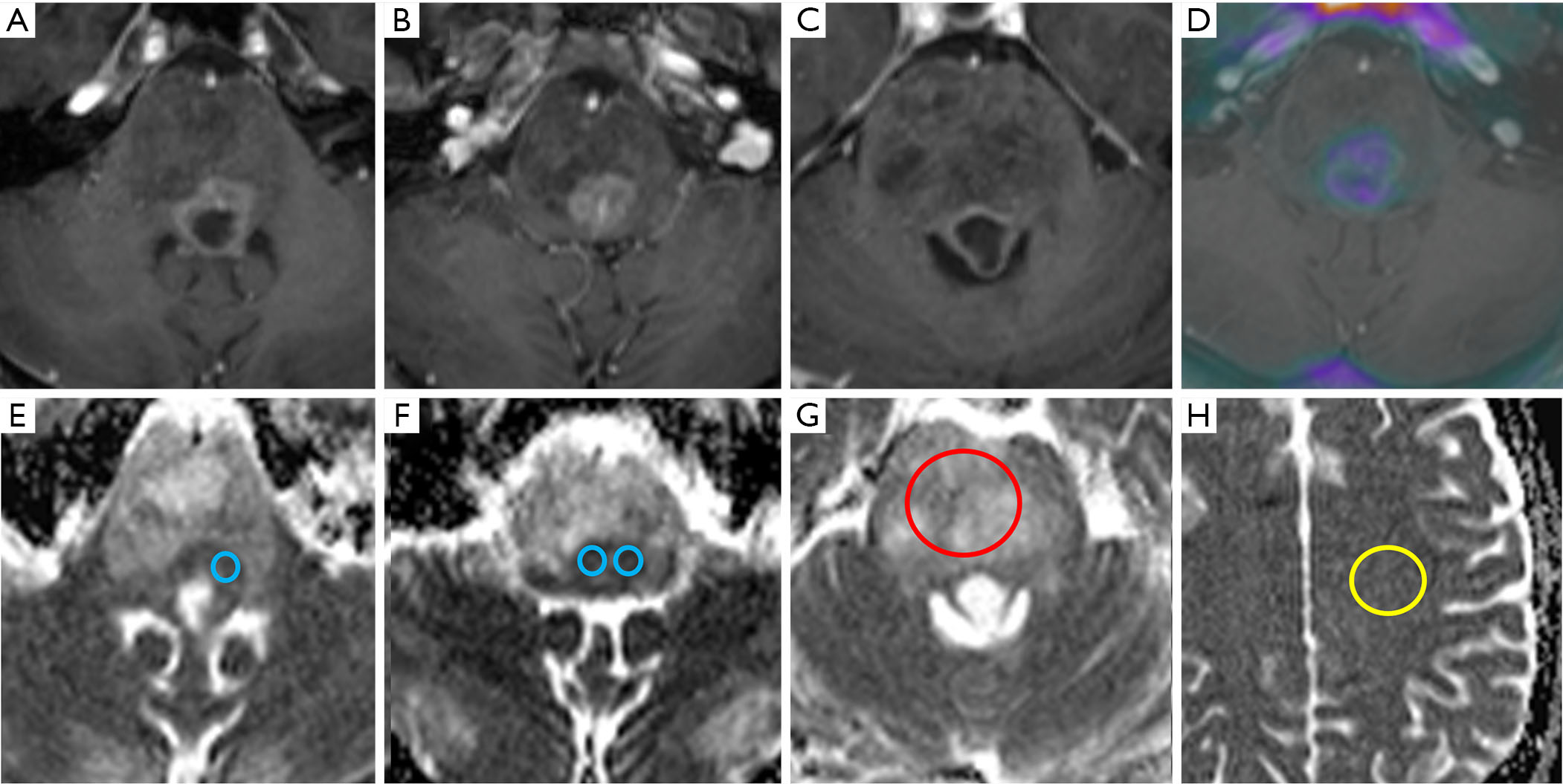 Figure 6 Quantitative ADC measurement in H3 K27M histone-mutant glioma. T2w (A,B), post gadolinium T1w (C) and T1w/18F choline PET fusion image (D) demonstrating a partially necrotic H3 K27M-mutant diffuse midline glioma (case 3) with considerable signal heterogeneity on all image sequences. ADC maps in the same patient featuring superimposed ADCmin (E,F), ADCmean (G) and ADCNAWM (H) regions of interest (ADCmin=blue, ADCmean=red, ADCNAWM=yellow). ADC, apparent diffusion coefficient.
---
Discussion
Few studies have investigated MR imaging findings in H3 K27M histone-mutant diffuse midline glioma, with most radiological series to date only describing qualitative tumour features (18,30). We quantified ADC values in H3 K27M-mutant solid tumour components, and found diffusivity to be variable, characterised by a relatively narrow spectrum of ADCmin values.
Limited extracellular diffusion is recognised as a hallmark feature of cancer, presumed to indirectly reflect tissue cellularity (31). Low diffusivity has been reported in glioblastoma (19,32), in WHO grade II/III malignant gliomas (33) and as an adverse prognostic biomarker in DIPG (20).
The ADCmin and ADCmean values in our H3 K27M-mutant glioma cohort are consistent with previous findings in glioblastoma (34). Many of the tumour ADCmin values were similar to normal appearing white matter (average ADCmin/NAWM ratio 1.097), which is in agreement with published data on ADC quantification in malignant gliomas (28,35). During their research into the conventional imaging morphology of histone-mutant gliomas, Aboian et al. observed reduced diffusion (unquantified) on inspection (18), whereas in a recent larger (n=66) series no restricted diffusion was reported (30). H3 K27M-mutant gliomas reportedly have higher cell densities and pronounced nuclear pleomorphism compared to glioblastoma types (36), which could give rise to the visual observation. On the contrary, indolent low grade gliomas typically show facilitated diffusion, evidenced by higher absolute ADC and ADC ratio values (27).
Chen et al. recently compared ADC ROI measurements in H3 K27M-mutant diffuse midline glioma (n=19) to a H3 K27M wild-type patient group (29). This study reported an average ADCmin of 0.734 (±0.120 SD) ×10-3 mm2/s and an average ADCmin/NAWM ratio of 0.972 (±0.165)×10-3 mm2/s. In our patient group, the results for ADCmin [mean 0.84 (±0.15)×10-3 mm2/s] and ADCmin/NAWM ratio [1.097 (±0.149)×10-3 mm2/s] are slightly higher despite using a similar ROI method. Furthermore, the majority of ADCmin [13/15 (87%)] and ADCmin/NAWM ratio [12/15 (80%)] values in our research exceed the proposed ADCmin threshold (0.728×10-3 mm2/s) and ADCmin/NAWM ratio threshold (0.982), respectively (29). This deviation may to some extent be explained by technical factors, such as differences in DWI acquisition and modelling. Observer dependence could also play a role, although excellent reproducibility has been demonstrated for region based glioma and NAWM ADC measurements in prior research (27,37).
In our study, less variability (smaller SD) was shown for ADCmin compared to ADCmean values, both for the use of the ROI based and the histogram technique. Given the high proportion of necrotic lesions, when using a ROI assessment the ADCmin method (using several small ROIs) appears technically more feasible to assess diffusivity in midline gliomas. The placement of a single circular ADCmean ROI in tumours with large portions of necrosis or haemorrhage would invariably exclude parts of the lesion. All (n=3) non-Gadolinium-enhancing, solid H3 K27M-mutant gliomas exhibited ROI ADCmean/NAWM ratio values in the range reported for non-enhancing glioblastoma (27), thus ADCmean measurement could potentially be informative for such cases. The regional NAWM ADC values measured in our study showed the least variation (smallest SD) and were numerically in keeping with previous research in normal white matter (38).
The ROI parameters, specifically ADCmin and ADCmin/NAWM ratio, appeared representative of the 5th and 10th ADC histogram percentiles. Most tumour histograms showed positive kurtosis and skewness, corresponding to the visually perceived ADC heterogeneity. The clinical impact of diffusion findings in H3 K27M-mutant glioma remains yet unknown; Aboian et al. recently compared ADC histogram statistics between paediatric H3 M27M-mutant and wild-type diffuse midline gliomas observing no difference (39). Conversely, Su et al. were recently able to predict H3 K27M glioma genotype using a FLAIR based machine learning algorithm (40) without considering DWI features.
Whilst our study did not include specific testing of ADC repeatability, recent evidence indicates that the majority of diffusion MRI derived parameters, and in particular ADC, are sufficiently robust across 1.5T and 3T scanners and suitable for multi-centre clinical studies (41). Furthermore, in the case of relative ADC measurements normalised to unaffected white matter (ADCmin/NAWM ratio and ADCmean/NAWM ratio), any potential effect from scanner variation would be minimised.
Variable T2/FLAIR characteristics, tumour border definition and contrast patterns were encountered, with solid and rim enhancement patterns coexisting. T2 hypointense glioma regions tended to correspond to low ADC signal in keeping with features previously reported for DIPG anaplastic components (42). Haemorrhage was evident in one third of cases, which has been hypothesised to represent a specific feature of H3 K27M-mutant gliomas in the cord (43). The diversity of glioma features and lesion volumes may reflect discovery at different time points during the disease, as suggested by the serial morphology change in case 7. High genomic instability has been discovered in histone-mutant gliomas (7), which may be associated with complex lesion architecture and imaging changes over time.
As a limitation, this study did not perform a comparison to other midline glioma genotypes. The cohort is small due to the rarity of the disease and its recent [2016] classification, which limits the generalisability of our results. We minimized potential bias by working according to published, reproducible ROI ADC quantification methods whilst being blinded to published thresholds.
In summary, our analysis underscores the potential role of diffusion-weighted MRI as a biomarker of H3 K27M-mutant glioma. While low diffusivity appears to be a typical feature of this tumour type, we observed a broader spectrum of ADCmin and ADCmin/NAWM ratio values than previously reported.
---
Conclusions
Heterogeneous morphology and diffusivity, commonly featuring moderately low ADC values in solid tumour, represents a quantifiable feature of H3 K27M-mutant glioma. Regional ADC measurements appeared representative of volumetric histogram data in this study.
---
Acknowledgments
Funding: No specific grant funding is associated with the work presented. University College London/UCL Hospitals receive proportional funding from the National Institute for Health Research Biomedical Research Centre.
---
Footnote
Conflicts of Interest: All authors have completed the ICMJE uniform disclosure form (available at http://dx.doi.org/10.21037/qims-19-954). Dr. KM serves as an unpaid editorial board member of Quantitative Imaging in Medicine and Surgery. The other authors have no conflicts of interest to declare.
Ethical Statement: Institutional ethics approval was obtained, with informed consent waived due to the nature of the disease and retrospective analysis.
Open Access Statement: This is an Open Access article distributed in accordance with the Creative Commons Attribution-NonCommercial-NoDerivs 4.0 International License (CC BY-NC-ND 4.0), which permits the non-commercial replication and distribution of the article with the strict proviso that no changes or edits are made and the original work is properly cited (including links to both the formal publication through the relevant DOI and the license). See: https://creativecommons.org/licenses/by-nc-nd/4.0/.
---
References
Cite this article as: Thust S, Micallef C, Okuchi S, Brandner S, Kumar A, Mankad K, Wastling S, Mancini L, Jäger HR, Shankar A. Imaging characteristics of H3 K27M histone-mutant diffuse midline glioma in teenagers and adults. Quant Imaging Med Surg 2021;11(1):43-56. doi: 10.21037/qims-19-954